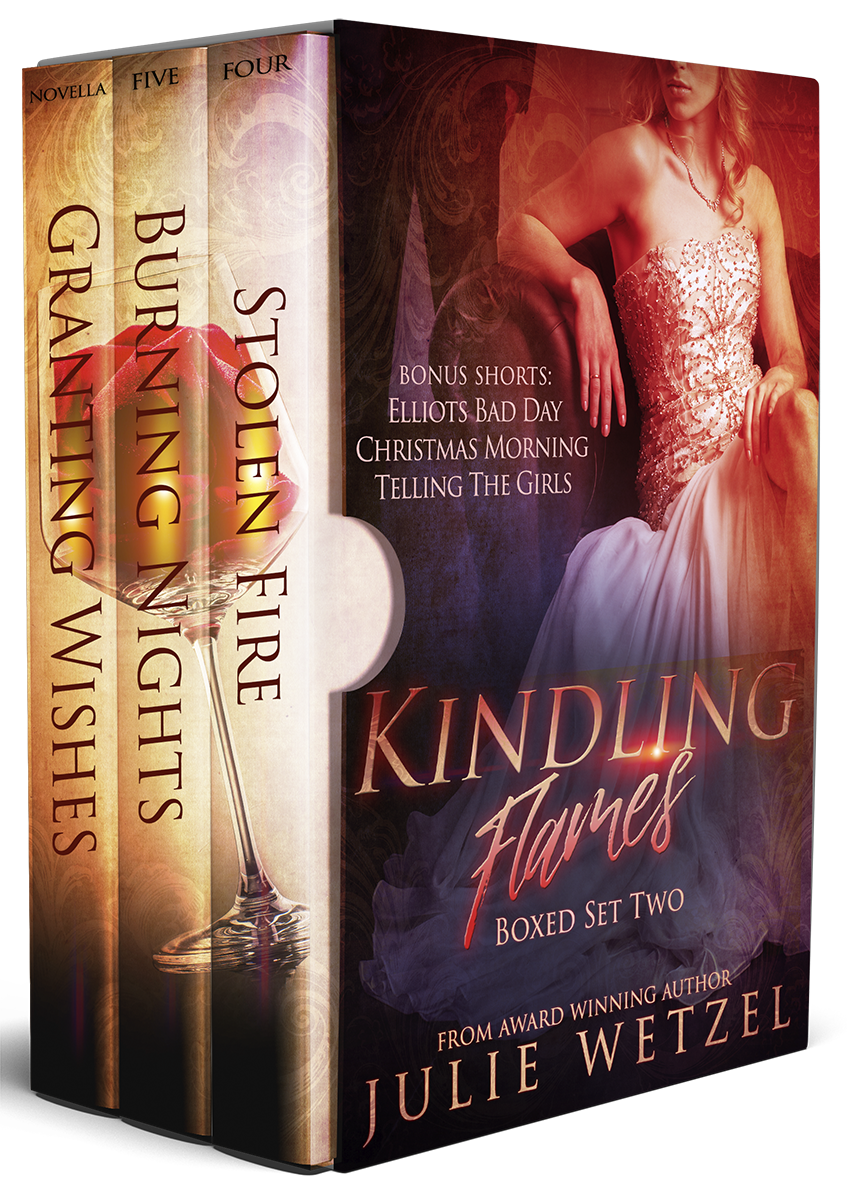 Kindling Flames: Box Set Two
From the best-selling author of Kindling Flames, comes a boxed set with the 3rd & 4th full-length Kindling Flames books, the Kindling Flames: Granting Wishes Novella, and three exclusive short stories. This boxed set includes exclusive bonus content and offers the reader a discount over purchasing each novel individually.
*** 3 Bonus Short Stories Included ***
The Ancient Fire Series (Also known as the Kindling Flames Novels) is a paranormal romance saga with over 2,300 five-star reviews on Goodreads. Dive into a series filled with sexy vampires, werewolves, shifters, Fae folk, and more. Science fiction and urban fantasy romance lovers unite because this series has seven exciting books that readers have compared to other popular vampire romance novels such as: A Shade of Vampire Series by Bella Forest, the Immortals After Dark Series by Kresley Cole, The Sookie Stackhouse Novels (True Blood) by Charlaine Harris, The Twilight Saga by Stephenie Meyer, The Vampire Academy by Richelle Mead, and The Black Dagger Brotherhood Series by J.R. Ward.
THIS BOXED SET INCLUDES:
Kindling Flames: Stolen Fire
Night. A time of quiet, of peace, of rest, and now, a time of terror. 
With an uncontrolled vampire plaguing the city, the Vampire Council of Brenton once again calls on Darien Ritter for help.
Overwhelmed with the issues of a new menagerie and plans for his wedding, Darien still manages to step up and answer the call. The only problem is, he suddenly finds himself a little too… human.
Kindling Flames: Burning Nights
After a wedding filled with werewolves, fay, and vampires, Vicky is looking forward to a nice, quiet honeymoon away from the chaos of Darien's daily life. But nothing is ever simple with an Ancient Vampire around. When the Vampire Council of Hawaii finds out Darien and his new bride are coming, they are determined to see that Darien is honored properly. But vampire etiquette isn't for the faint of heart. The nights could burn when lines are drawn… and Darien finds himself in a turf war he never intended to start.
Kindling Flames: Granting Wishes 
Leprechauns don't exist. Or that's what Cathren has always believed, but a chance encounter changes everything. When she saves a handsome stranger from a nasty electrical shock, not only does he claim to be one, but he also insists on granting her wishes. Now she must decide— is he insane, or a magical creature of lore? Unsure which is true, she grabs at the first three wishes she can think of: true love, happiness, and waffles. A tall order for most men, but not for Patrick Brogan. With a little persistence and just a touch of magic, anything is possible.
BONUS CONTENT-
Elliot's Bad Day (A Kindling Flames Exclusive Short Story) 
Christmas Morning (A Kindling Flames Exclusive Short Story) 
Telling the Girls (A Kindling Flames Exclusive Short Story)